Emily Longley trial: Aspiring model, 17, 'was strangled'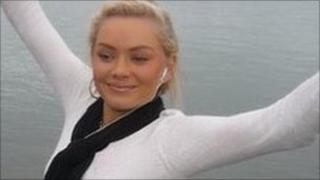 An aspiring 17-year-old model who was found dead in Bournemouth was strangled, a court has heard.
Emily Longley, originally from New Zealand, was found dead in her boyfriend's bed at his house, last May.
At his trial at Winchester Crown Court, Elliot Turner, 20, of Queenswood Avenue, denies murder and perverting the course of justice.
His parents, Leigh, 54, and Anita, 51, of the same address, also deny perverting the course of justice.
According to the prosecution, Mr Turner killed Emily inside his garage-converted bedroom at his parents' house on 7 May.
Internet searches
Prosecutor Timothy Mousley QC said: "Short though their relationship was, Elliot Turner showed himself to be aggressive, violent and controlling towards Emily, and mistrusting of her."
The court also heard how on the day of her death, he had his passport in his pocket and bags packed.
Jurors were told police investigations of the internet search history on the defendant's laptop showed he had been looking up websites called "death by strangulation" and that he had also looked up "law for self defence in court" and "how to get out of being charged for murder".
Mr Turner's parents are accused of failing to telephone the emergency services, removing evidence from the crime scene and destroying vital evidence.
Jurors were told Leigh Turner had used bleach to destroy a letter written by his 20-year-old son and that Anita Turner had removed a quilted jacket from his room.
The trial continues.