Cygnet hatching in Abbotsbury marks first day of summer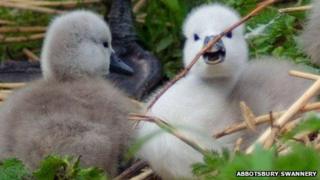 The first cygnet of the year at Abbotsbury Swannery in Dorset is the earliest since records began in 1393.
The hatching of the first cygnet is traditionally taken as a sign that summer is here.
A swanherd has been keeping records of cygnets born at the colony of mute swans since the late 14th Century.
Thousands of swans have lived near Chesil Beach since the 11th Century, when Benedictine monks began farming the birds for their banquets.
'Farmed like cattle'
John Houston, general manager of Abbotsbury Tourism, said: "The Benedictine monks started farming the swans in the 11th Century, but there were already about 1,000 swans living here when they arrived.
"They farmed them like cattle and used them for banqueting purposes."
Abbotsbury Swannery is the only managed colony of nesting mute swans in the world.
The swans are unusual in that they do not belong to the Queen, but to the Ilchester Estate.
The swannery was bought from Henry VIII in 1541 by the Strangways family following the dissolution of the monasteries.