Emily Longley trial: Accused 'asked friend to kill'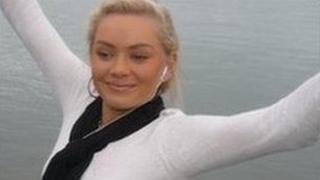 The friend of a man accused of murdering his girlfriend has told jurors the defendant asked him to kill the 17-year-old on the night she died.
Emily Longley, originally from New Zealand, was found dead in her boyfriend's bed at his house in Bournemouth, Dorset, last May.
Tom Crowe told Winchester Crown Court that Elliot Turner gave him a hammer and asked him to kill Miss Longley.
Elliot Turner, 20, of Queenswood Avenue, denies murder.
He also denies a charge of perverting the course of justice.
His parents, Leigh, 54, and Anita, 51, of the same address, have also denied perverting the course of justice.
Mr Crowe told the jury that minutes before Elliot Turner went inside his house with Miss Longley, the defendant had given him a metal lump hammer and asked him to kill her.
'I hate you'
Mr Crowe, 18, told the court that he had refused.
He said the couple then argued outside the house before Miss Longley said to Elliot Turner: "I hate you," and tried to lock him out of his home before he got inside and shut the door.
Mr Crowe told the court he and one of Elliot Turner's neighbours, Harry Hawkins, saw the incident in the early hours of 7 May.
He said he turned to Mr Hawkins and said: "I think Elliot's going to kill Emily."
The jury heard that a short time earlier, Elliot Turner had taken Miss Longley's mobile phone and seen that she had been texting other men.
Mr Crowe said Elliot Turner was angry and was clutching the phone, swearing repeatedly.
Previously the court had heard that Miss Longley had been found dead in Elliot Turner's bed later that morning.
Elliot Turner said they had argued and he had defended himself and when he woke up beside her she was dead.
Giving evidence, Mr Crowe told jurors he had been "shocked and scared" while waiting outside the house for a taxi after the couple had gone inside.
He said: "I felt confused, I felt relieved to get away. I felt scared for Emily - I didn't know what to do."
He also told jurors that he and Elliot Turner had practised strangling each other after the accused had said to him: "How should I do it Tom? How should I kill Emily?"
He described the incident as "horseplay", but said: "He just wanted to know how to kill someone, I guess. I said I would not know - I am not a murderer.
"He was kind of bringing up ideas - should I do this or should I do that? Should I set fire to her in the bedroom with petrol? Should I drown her in a bathtub?"
Jurors were also told that two days earlier, on 5 May, Elliot Turner had claimed he had killed Miss Longley with a lump hammer.
'Something dreadful'
Mr Crowe said that he, Elliot Turner, and some other friends had driven to a nightclub called Klute where Elliot Turner believed Miss Longley had arranged to meet another man.
Mr Crowe said he waited outside in the car for three hours after Elliot Turner had gone into the club with the hammer.
Mr Crowe told the jury: "He said: 'I have done something horrible, dreadful, really, really bad.' He looked on the verge of tears.
"He said he had killed Emily. He said he had used the hammer to club her around the head six or seven times.
"I believed him. I looked up to him as a really good friend."
The jury heard the 20-year-old eventually admitted it was a joke.
Elliot Turner's parents are accused of failing to telephone the emergency services, removing evidence from the crime scene and destroying vital evidence.
Jurors were told Leigh Turner had used bleach to destroy a letter written by his 20-year-old son and that Anita Turner had removed a quilted jacket from his room.
The trial continues.