Poole's Twin Sails Bridge to close overnight for more repairs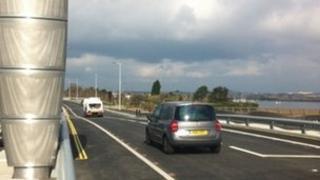 Dorset's newly-opened Twin Sails bridge is to be closed overnight on Wednesday after more problems were discovered.
The new lifting bridge, linking Poole Harbour with Hamworthy, has already undergone extensive repairs, delaying its opening by more than a month.
Borough of Poole Council said the night time closure was to allow engineers to rectify "a number of minor issues".
The bridge will be closed to traffic and pedestrians from 20:00 BST and should reopen on Thursday morning.
The bridge, which opened in April, had originally been due to open in February but emergency repairs were needed when parts of the road surface fell away while the structure was raised.
The council's strategic director, Jim Bright, said: "Since opening the Twin Sails Bridge to road traffic we have experienced a number of minor issues which we are keen to understand and resolve as soon as possible.
"By closing the bridge overnight we hope to minimise disruption to the public and work with our contractors to find a successful solution to the problems."