Dorset's Char and Wriggle rivers no longer flood risks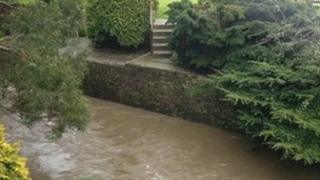 Flood warnings on two Dorset rivers have been lifted following initial fears both could burst their banks.
The Environment Agency had advised residents living near both the River Char in Charmouth and River Wriggle at Chetnole to protect their homes.
Both warnings were lifted on Wednesday afternoon despite wet and windy weather bringing down trees and closing roads.
Ferry services between Poole and the Channel Islands were also cancelled while surface water flooded some roads.
Properties at risk in Charmouth were in Catherston Cottages, Robyns Nest, Neighbridge Cottage and Kingfishers.
Low lying properties in Deep Ford Lane in Chetnole were also at risk.