Flood alerts pass for two Dorset rivers after rain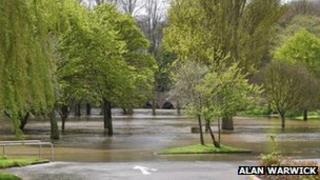 Flood warnings on two Dorset rivers have been lifted following heavy rain.
The Environment Agency had issued warnings for the Lower and Middle Stour after some areas saw up to 50mm of rain (2in) yesterday.
Earlier, the agency said water levels in the Lower Stour from Sturminster Marshall to Christchurch were rising.
On the Middle Stour, a stretch between Sturminster Newton to Wimborne had also been on flood watch.
Both warnings were lifted around 16:30 BST.
Yesterday, flood warnings were issued for both the River Char in Charmouth and River Wriggle at Chetnole after initial fears both could burst their banks.
Both warnings were lifted on Wednesday afternoon.