London 2012: HMS Bulwark to test Weymouth Olympic security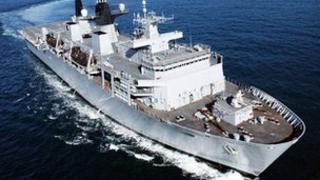 Security preparations for the 2012 Olympics begin off the Dorset coast on Monday with the arrival of HMS Bulwark.
The Royal Navy ship will be based 10 miles off Weymouth to support a test exercise ahead of sailing and windsurfing events this summer.
The assault ship will remain offshore for three or four days with police activity also set to increase around Weymouth Harbour.
Dorset Police will use the vessel as its command base during the Olympics.
Weymouth and Portland is the largest Olympic and Paralympic venue outside of London and hosts the only other full-time Olympic village.
Dorset Police's marine officers will take to the water to ensure the event's security on a variety of vessels including jet skis, inflatable boats and smaller craft.
They are expected to be supported by other forces from around the country as well as personnel from the Royal Navy, Army and Royal Air Force.
Capt Alex Burton, of HMS Bulwark, said: "The Olympics is a once in a generation event and it is a privilege that HMS Bulwark has been chosen to support the safety and security operation."