Emily Longley trial: Friend calls defendant 'obsessive'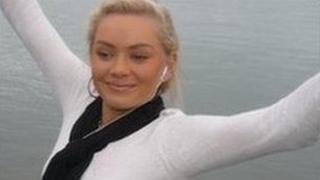 A friend of a Dorset man accused of murdering his girlfriend in a jealous rage told a court the defendant was obsessed with the 17-year-old.
Jasmin Snook also said she had heard Elliot Turner threaten to kill Emily Longley in the days before her death.
Miss Longley, an aspiring model, was found dead in Mr Turner's bed at his house in Bournemouth, Dorset, last May.
Mr Turner, 20, of Queenswood Avenue, denies murder at Winchester Crown Court.
Miss Snook said she was told by Mr Turner that he had looked at Emily's Facebook profile and had seen she was contacting other men.
"He was obsessive. He was constantly talking about her," she said in her evidence.
Lump hammer
Miss Snook told the court that Mr Turner had found Miss Longley was meeting another man at a nightclub in Bournemouth on the evening of 5 May.
The jury heard that during the course of the evening, she saw Mr Turner enter the nightclub with a lump hammer.
Miss Snook said she went home but met Mr Turner later when he told her "she's dead", but then she said he started laughing and said he was joking.
She also told the court of the last night the group went out together when Mr Turner bought Miss Longley flowers and chocolate and then followed her around the Bournemouth and Poole areas.
She said the couple argued before he found her at a friend's house and took her back to his place.
Miss Snook said: "I told her not to do it. I said, 'I wouldn't if I were you'.
She said she later texted Miss Longley and received the reply: "I'm OK. We will talk in the morning. I will go home. I'm not staying with Turner."
She told the court when she tried to contact her again, there was no reply.
Mr Turner also denies perverting the course of justice. His parents Leigh Turner, 54, and Anita Turner, 51 also deny perverting the course of justice.
The trial continues.