Bridge plunge couple rescued from Dorset stream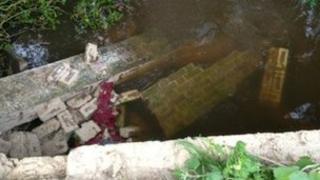 A married couple were rescued from a stream in Dorset after their car plunged 10ft (3m) from a bridge and landed upside down in the water below.
The man, 78, and the woman, 77, were trapped in the car, which had filled with 8in (20cm) of water, in West Stafford, near Dorchester, on Sunday.
They were treated for hypothermia once they were freed by fire crews after spending half an hour in the water.
The collision involved another car. The driver, a woman aged 56, was not hurt.
Derek Bateman, who lives nearby, waded into the water at about 21:00 BST.
'Tremendous crash'
Mr Bateman said: "There was a tremendous crash. I actually thought something had hit the house."
He noticed the bridge wall had been knocked down and saw the car upside down in the stream when he looked down.
Mr Bateman said: "Your mind goes blank and you think 'What do I do now?'
"I heard soft crying coming from inside the car. The lady was shouting 'Help me!'. I got a crow bar, fell down the bank and smashed the window.
"She said 'We're going to drown!' and I said 'No, you're not, the water won't get any higher'."
He stayed with the couple, who had their heads above the water, until emergency services arrived.
Jason Rogers, from Dorset Fire and Rescue Service, said the couple lost control of the vehicle in poor driving conditions.
Mr Rogers said the man in the car was removed on a spinal board but the woman was able to walk to the ambulance crews.
"The water was flowing steadily but was pretty cold so time was of the essence to prevent them becoming even colder and going into severe shock."
The couple were taken to hospital as a precautionary measure.