Local elections 2012: Weymouth and Purbeck stay hung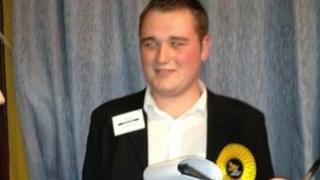 Weymouth & Portland council gained its youngest member but stayed in no overall control along with Purbeck.
Labour gained four seats in Weymouth boosting its number of councillors to 11 while the Conservatives lost two leaving them with 14 seats.
The Lib Dems lost two, but Ryan Hope, 20, became the youngest ever representative taking Westham North.
In Purbeck, there was no change with the Tories remaining one seat away from taking overall control.
Mr Hope retained the seat for the Lib Dems by a margin of more than 200 votes.
He said: "It's not sunk in yet. I'm over the moon.
"Last year I stood as well and I lost by three votes so this year to win with 705 votes it just really shows people are ready for a change and ready to support young people again.
"I've got a long track record of volunteering in the community, people already know what I can do as a volunteer and I think people are going to be expecting a lot more of me as a councillor and I'm just hoping I can deliver."
· All the latest election results are available at bbc.co.uk/vote2012