Costa Concordia payout offer 'an insult', says dancer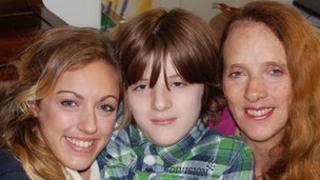 A dancer who was caught up in the Costa Concordia cruise disaster has said the amount of compensation offered by the ship's owners is "insulting".
Rose Metcalf, of Dorset, was performing on the ship when it ran aground off Italy, resulting in 32 deaths.
She has been offered 6,000 euros, which she believes to be a third of the value of the possessions she lost.
Miss Metcalf, 23, has joined a class action lawsuit in the US against the ship's operators, Carnival Group.
Carnival Group said Miss Metcalf had not been directly employed by the firm.
A spokesman said because she was a concessionaire, it was not up to Carnival to decide how much she was given in compensation.
Miss Metcalf, who helped passengers to get off the stricken vessel, said: "I fulfilled my duty in the emergency drill and more so to be offered a package worth a third of my lost possessions is insulting."
Miss Metcalf had to wait four-and-a-half hours to be airlifted to safety after climbing on to the side of the listing ship.
When she returned to her parents' home, near Witchampton, Dorset, to recuperate, she was told by her GP that she was suffering from post-traumatic stress syndrome.
She said: "I'd saved people's lives. I nearly died so the least they (Carnival) could do is refund my dance equipment and pay for psychological treatment I now require.
"I suffer flashbacks, I get palpitations and panic attacks. Recently I had to get off the Tube in London because I couldn't see my exit."
'Left penniless'
Carnival also suspended Miss Metcalf's salary on 16 January, despite her contract running for a further two months, she said.
She returned to London to audition for West End shows but was hindered by a torn tricep she said she suffered when she was airlifted.
Miss Metcalf said: "I'd been left penniless so was sofa-surfing with friends, but was unable to contribute to bills.
"I'd no intention of suing Carnival until I received the compensation offer from Lloyds of London, on behalf of Carnival.
"They said they'd only honour my remaining two months of wages if I accepted the package which was nowhere near what my belongings were worth."
A former crew member put Miss Metcalf in contact with US law firm Ribbeck Law Chartered.
The firm is filing a class-action lawsuit in the US against Costa Cruises, demanding at least $160,000 (£105,000) for each passenger on the ship.
Carnival Group, has offered uninjured passengers 11,000 euros ($14,500; £9,200) each in compensation, on condition that they drop any legal action.
Miss Metcalf added: "After what the crew has suffered I don't think we should be having to fight this ensuing battle in the aftermath of this event."
Carnival Group spokesman Gabriele Baron, said: "If crew members are not direct employees of Costa, like concessionaires in this case, they are compensated pursuant to the terms of the collective bargaining agreements between crew members' trade unions and the crew members' employers."
Mr Baroni said those agreements were "deemed to be fair when agreed by the crew members' trade unions" and were in accordance with Italian trade laws.