Stranded Westwind II crew set to leave ship moored at Portland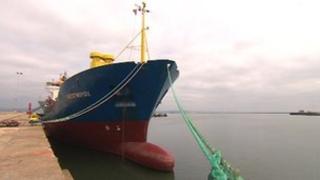 The crew of a cargo ship stranded off the Dorset coast for seven months is set to go home after a court decision.
Westwind II got into difficulties during a storm in October last year and ran aground in Weymouth Harbour.
The ship was detained over safety concerns while the five crew members, who claim not to have been paid for more than 10 months, remained onboard.
The Admiralty Court has ruled the ship should be sold and the crew's wages paid from the proceeds.
The Apostleship of the Sea seafarers' welfare charity has been helping the five crew from Turkey and Georgia.
Sold for £500,000
Chaplain Roger Stone said: "They are just waiting, day after day, to get paid.
"And of course their families back home are in severe financial difficulty as well."
The vessel was "arrested" by the Admiralty Marshall after claims its anchor had damaged commercial mussel beds in the harbour.
It was detained by Maritime and Coastguard Agency (MCA) safety inspectors after 30 defects were found.
Although it remains "under arrest" the Admiralty Court has ordered the ship be sold for £500,000.
Fees for the port and the court are set to be paid first, with the crew being paid from the remainder of the revenue.
The crew members will handover to a new crew and said they hoped to be gone in the next 10 days.
The ship will remain in MCA detention until the safety repairs have been carried out.
The German owner has yet to respond to requests for a comment.