Emily Longley trial: Boyfriend 'grabbed throat in self defence'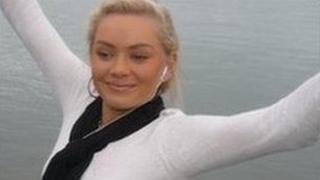 A man accused of murdering his girlfriend in a jealous rage has told Winchester Crown Court he only defended himself after she attacked him.
Elliot Turner, 20, said that an argument in his bedroom turned violent and he was forced to grab aspiring model Emily Longley, 17, by the throat.
He said he never strangled her but found her dead in his bed the next morning, on 7 May 2011.
Mr Turner, of Queenswood Avenue, Bournemouth, Dorset, denies murder.
Giving evidence for a second day, Mr Turner told the court he had been disgusted by his own actions that night.
He said he wrote a letter to his mother telling her how ashamed he was and that he was leaving for Spain.
He admitted he had threatened the aspiring model and that he felt "upset and deceived" on the night before she died after seeing untrue emails on her phone saying he had smashed her face into a table.
He described the argument the night before she died, saying the 17-year-old had just started hitting him.
Mr Turner said he tried to calm Emily down before giving up and throwing a £20 note for a taxi at her.
He said: "She just ignored me at first. Then five seconds later she just went crazy.
"I had never seen Emily get to that point of rage. I didn't know what to do. She would not stop. I kept repeating myself, 'stop it, calm down'.
"At that point I grabbed her by the neck using my right hand."
'Pressed on neck'
Defence counsel Anthony Donne QC asked: "Why did you do that?"
Mr Turner replied: "To stop her going nuts. I did not know what to do. My right hand made contact with her neck."
When asked by the defence counsel "how hard?", Mr Turner replied: "I would not say very hard but it was quite hard. I grabbed her and pushed her down on to the bed. I pressed down on her neck when she was in the lying down position."
He said he held her there for five or six seconds, then let go and "stormed out of the room".
When asked if he intended to kill Emily, Mr Turner replied: "No."
He said he thought Emily had gone to sleep.
It was only when she would not wake up the next morning that he realised she was dead, he said.
Mr Turner also denies perverting the course of justice. His parents Leigh Turner, 54, and Anita Turner, 51, also deny perverting the course of justice.
The trial continues.