'Multi-faith' chapel plans at St Ann's Hospital in Poole criticised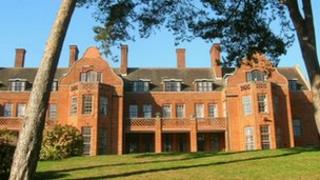 Plans to remove Christian elements from a hospital chapel in Dorset, including the altar and organ, have been branded "appalling" by a former chaplain.
The Rev Stewart Timbrell has been angered by moves to create a "multi-faith" space at St Ann's Hospital.
The changes are part of a £20m revamp of the psychiatric hospital in Poole.
But the current chaplain, The Rev Michael Oates, insisted the new facility would be "a spiritual space... for our multi-cultural service users".
He added: "We believe that the future provision for service users at St Ann's to practice their individual beliefs will be appropriate."
But Mr Timbrell said removing the Christian items, many of which have been funded by donations, could harm patients.
"It [the chapel] is important for all sorts of reasons, especially in mental health, and to remove the altar and organ and music and everything is a particularly terrible thing to do," he added.
"When people are mentally ill... they often talk about the emptiness and the chapel is going to be replaced with an emptiness, with a space which won't offend anyone and certainly won't help anyone.
"I know what it means to the patients and it is really quite appalling it is going to be taken away."
The hospital trust said the "out-dated" chapel was only a small area being refurbished as part of its plans and any items being removed would be retained until an appropriate setting for them can be found.
James Barton, director of mental health services at Dorset Healthcare University NHS Trust, said: "Whilst I respect [Mr Timbrell's] views I am really saddened by them.
"This space... will still absolutely be a space where people can still contemplate, have time-out, and have that space to seek their sense of spirituality and to seek God."
Mr Barton also said Sunday services would continue in the revamped chapel.