Wimborne farmer convicted of causing suffering to cow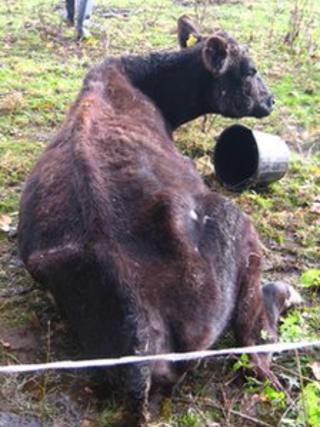 A Dorset farmer has been found guilty of failing to look after his herd of 90 cattle properly and causing unnecessary suffering to one animal.
Brian Pitman, 61, of Canford Bottom, near Wimborne, was convicted of 13 charges by Bournemouth magistrates.
His herd was seized from Uppington Farm in Chalbury in November 2010. Eight animals died or had to be put down.
Pitman was fined £515, banned from keeping cattle for two years and given an eight-week curfew order.
Under the curfew conditions he will be fitted with an electronic tag.
The court heard how he failed to feed his entire herd adequately and did not treat, or seek veterinary treatment for, sick or injured animals.
He was also convicted of breaching disease control regulations.
Pitman, of Stirrup Close, had faced 19 charges and pleaded guilty to two charges relating to animal identification for disease control.
Herd seized previously
He was convicted of causing a unnecessary suffering to one cow, which was found collapsed and underfed in a field by inspectors and had to be put down.
The carcass of another cow was also found nearby.
Five animals later died because they were so poorly and another one had to be shot after it could not be captured when the herd was seized, the court heard.
It was the second time Dorset County Council had seized Pitman's animals.
In 2009, a herd of 80 to 90 cattle was seized after another inspection.
In his defence, Pitman said he struggled to care for them because he had been ill.
He said only six or eight of his animals were poorly and that was down to a fluke infection which he had treated.
Pitman said after the sentencing: "This will cause hardship to me.
"I'm not completely satisfied with the way the case was handled, but now totally relieved that we can now put a line under this whole matter."
Ivan Hancock, Dorset County Council trading standards service manager, said: "This case involved underfeeding of 90 animals - a whole herd - and unnecessary suffering being caused to one.
"The seizure of the whole herd of someone's animals is something that we don't take lightly at all, and this has happened twice to Mr Pitman in the last five years.
"It's something we only consider in extreme conditions when we think that the animals may suffer if we leave them in the possession of someone."