Corfe Castle's new railway signal box opens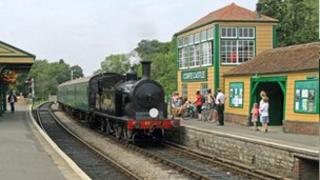 A Victorian-style signal box built in Corfe Castle by volunteers is officially opened.
The new brick and wood signal box has been made to resemble the original one from 1885.
It cost £48,000 and has taken four years to complete. Rail Minister Theresa Villiers officially opened the signal box.
It has been rebuilt for the regular reinstatement of passenger trains between Swanage and Wareham next year.
The last British Rail train, from Swanage to Corfe Castle and Wareham, ran on New Year's Day in 1972.
Beyond repair
Volunteer Mike Whitwam said: "Network Rail's £33m Poole to Wool re-signalling scheme - due to be completed in May, 2013 - will include the ability to run trains from Swanage on to the main line at Wareham."
The new Corfe Castle signal box will be linked to Network Rail's Basingstoke signalling centre.
In June 1956, British Railways demolished the original signal box at Corfe Castle as its timber had deteriorated beyond repair and the structure was suffering from subsidence.
Funding for the 32-lever signal box came from the Swanage Railway Trust.
Since the closure, Swanage Railway has been rebuilt from scratch by volunteers and ran its first passenger train from Wareham to Swanage in 2009.