Hunt for fishing boat reveals wreckage off Dorset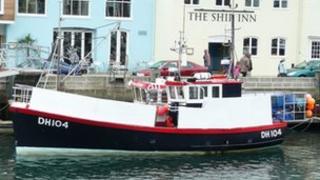 The search for a fishing boat and three crew missing off the Dorset coast has revealed a vessel on the seabed.
The Maritime and Coastguard Agency (MCA) said an uncharted wreck of similar size to the missing fishing boat, Purbeck Isle had been located.
It was discovered by a survey ship with sonar equipment involved in the search for the Weymouth-based boat.
Coastguards began an extensive search overnight after the crabber was reported missing at about 18:00 BST.
The MCA said it received no communication from the crew of the crabber before it disappeared.
Fred Caygill from the agency said: "We will continue to endeavour to keep going with the search.
"It's a vast search area off Portland within the periphery of Lyme Bay, searching the usual fishing grounds and where the Purbeck Isle usually lays its pots, but that search area is expanding."
'Hoping and praying'
The RNLI lifeboat from Weymouth, the Coastguard helicopters and a number of ships including Royal Navy destroyer HMS York and a US Navy supply vessel joined the hunt for the vessel overnight.
The alarm was raised for the 11m (36ft) boat and its crew by a fellow fisherman who was unable to make radio contact with the vessel.
Andy Alcock, secretary of the Weymouth and Portland Fisherman and Licensed Boatman Association, said: "There are so many things that can go wrong in a day at sea, for fishermen it's the nature of the beast, you go to sea and there's always a risk.
"It's come as a shock to everyone within the port.
"At the moment we are still hopeful. Weather conditions were reasonable - there is a liferaft on board so they could be up or down the channel somewhere."
Canon Richard Franklin from Holy Trinity Weymouth said: "We're still hoping and praying for the lads."
The crew of the boat was rescued in January 2011 after the vessel began taking on water off Chesil Beach, west of Portland.