Emily Longley murder: Fears in final message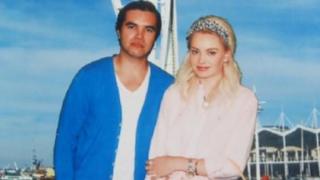 "I'm thinking of breaking up from Elliot... because of his controlling, threatening behaviour."
Those were the words 17-year-old aspiring model Emily Longley texted to her mother hundreds of miles away in New Zealand.
Hours later Elliot Turner, of Queenswood Avenue, Bournemouth, had strangled Emily in a jealous rage and left her dead in his bed.
Her mother, Caroline Longley, said: "She fought for her life in there.
"As a parent, all we want to do is to protect our children and we couldn't help her."
Turner, who had already admitted perverting the course of justice, was found guilty of murder at Winchester Crown Court.
His parents, Leigh Turner, 54, and Anita Turner, 51, were also found guilty of perverting the course of justice.
While Turner, now 20, and his parents had set out to conceal the truth, Emily's own words had been some of the most incriminating.
In an emotional plea to Turner, Emily wrote a note to him a few months before her death saying: "1) I love you, 2) Don't say you'll kill me, 3) Stop talking about your ex-girlfriends, 4) Stop being so constantly aggressive, be more cool 'cause that is so much more hot and you make me scared cause you're so intimidating."
Jealous rages
Emily had travelled over from New Zealand to study at Brockenhurst College in Bournemouth.
Born in England, she had returned to stay with her grandparents and complete a course in business studies.
The student had met Turner on a double date and began what turned out to be a turbulent on-off relationship for about six months.
In court, Turner admitted he had threatened to kill her up to 15 times before she was killed on 7 May 2011.
In court, he said he had never meant it, but the frequency of his violent text messages suggested otherwise.
In one, sent to his friend two days before Emily's death, he threatened to "smash her face in, she's dead" after discovering she was out at a nightclub with someone else.
A lump hammer was found underneath a water butt outside the family house the day after Emily died.
Mrs Longley said: "To be honest I think he showed his true colours in that witness stand being so rude to the prosecution."
'Lack of remorse'
In a plot to cover up their son's murder, the court found Turner's parents lied about the delay in calling an ambulance, removing a jacket from the scene of the crime, and his father destroying a letter written by him.
Police recorded conversations between Turner and his parents discussing what they should say to the police about the delay.
Mr Longley said seeing this web of lies played out in the court room had been "hell".
He added: "There's no other words to describe it, it's far, far worse than I thought it was going to be.
"What's really shocked me is the lack of remorse that not only he appears to have but his parents as well."
Mrs Longley said: "Elliot, when asked by the prosecution about remorse was told: 'This is the girl that you're supposed to have loved more than life itself and you've shown no remorse' and his answer was: 'Well, it happened a year ago'. He's over it now."
Emily's parents said they would never be over it.
Mrs Longley said: "I will always remember Emily as a radiating angel, she was my angel."