Bournemouth vicar catches lead thief on roof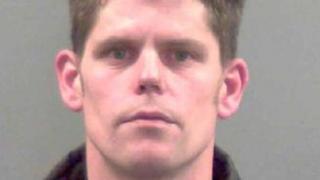 A man has been sentenced to two years imprisonment for stealing lead from a church roof in Bournemouth.
The vicar of St Stephen's Church stayed in the church overnight and alerted police when the thief was on the roof.
Andrew Paul Miller, 36 of Wimborne Road pleaded guilty to two counts of theft, at Bournemouth Crown Court.
Rev Christopher Colledge called the theft "despicable" and said the church had suffered £200,000 damage from similar thefts.
He had stayed inside the church until the early hours of 11 May when he suspected a theft of roof lead may take place overnight.
'Sorrow and unhappiness'
He described watching through the church letterbox while a hooded figure climbed up a drainpipe on to the roof shortly before 02:00 BST
Police surrounded the building and a fire brigade cherry picker was used to lift officers on to the roof to find the man, who was hiding.
Mr Colledge said: "Hopefully the sentence will send a message to other thieves that they are causing so much sorrow and unhappiness for congregations having to raise funds for repairs."
He said an "entire side" of the roof had been stripped of lead in previous incidents, with rainwater leaking in causing damage to church artefacts, computers, electrics and books.
"Enough is enough, we're not going to tolerate it any more," he added.