London 2012: 350 police officers for Olympics in Dorset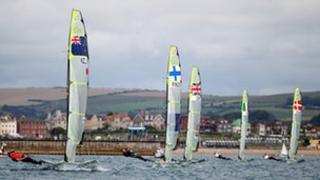 Up to 350 police officers will be on call during the Olympic sailing events in Dorset, it has been revealed.
Dorset Police said that about 150 of its 1,500-strong force were available, and 200 from other forces in a 65-day operation in Weymouth and Portland.
A police spokesman said the figures would be for "extreme" cases and numbers would "vary according to the demands of each day".
About 12,500 officers will police the Games nationally, with 9,500 in London.
Assistant Chief Constable Adrian Whiting, who is leading the Games safety and security operation in Dorset, said there would be enough resources to police the rest of the county.
He said: "We are committed to making Dorset safer and as well as planning for a safe and secure Games, we will continue to provide operational service as usual across the rest of Dorset."
The costs of mutual aid support from other forces will be met by the Home Office from the budget for Olympic safety and security.
The Olympic sailing events will be held from 29 July to 11 August.