Piglets perish in Friar Waddon farm blaze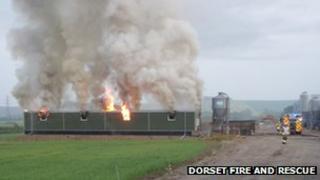 More than 150 piglets and 18 sows were killed in a fire at a farm in Dorset.
Six appliances and an animal rescue team were called to Corton Farm in Friar Waddon near Weymouth at about 20:30 BST on Thursday night.
The blaze destroyed the farrowing shed where the sows had recently given birth to the piglets.
Firefighters were unable to rescue the animals as the building had been so badly burned. An investigation is under way into the cause of the fire.