Dorset Art Weeks papier mache heads decorate Wimborne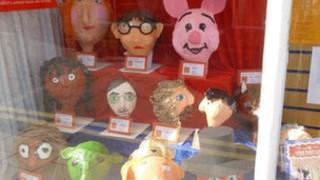 A town centre in Dorset has seen its shop windows filled with more than 160 papier mache heads after a small school project took on an extra dimension.
Sixty shops in Wimborne have now taken part in a scheme that was initiated to promote Dorset Art Weeks 2012.
Project leader Sarah Ross-Thompson said: "Since then it has spiralled and now seems to be the talk of the town."
Shopkeepers have started contributing their own artwork, with heads themed to the shops that are displaying them.
Ms Ross-Thompson added: "[There are] teapots for cafes, tools for the hardware store and some wonderful, scary hairdos for the barbers.
"As the weeks have gone by, more and more of the store-owners have jumped on board."
The four schools initially involved were Queen Elizabeth School, Allenbourn Middle School, St John's First School and St James' Cottage Nursery.
Exhibits include Harry Potter, William Shakespeare, and the White Rabbit from Alice in Wonderland which appears in a different shop window each day.
'Creative people'
Maggie Drennan, 57, of health food shop Spill the Beans, made a Queen's head with her husband Eric, 61, to celebrate the Diamond Jubilee.
She said: "It's been absolutely fantastic, the customers are coming in and they're laughing. Our role is service but also theatre and enjoyment."
Rachel Limb, tourism manager at East Dorset District Council, said: "It has encouraged people to go round exploring the shops, which is especially nice in this weather."
Ms Ross-Thompson said: "Our little band of artists have been delighted by the amazingly positive response to the project, which really appears to have pulled the whole community together and brought a smile to lots of faces."
Dorset Art Weeks is the largest open studios event in the country and runs from 26 May to 10 June.