Purbeck Isle tragedy: Father tells of 'outpouring' of public tributes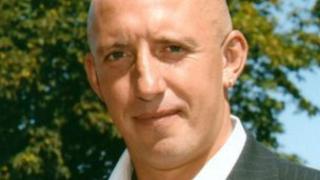 A father has told how a fisherman drove 11 hours from Scotland to Weymouth to leave a tribute to his son who died when his fishing boat sank off the Dorset coast.
Colin McFarlane said he was "overwhelmed" by the amount of tributes left by the public for his son, skipper David McFarlane.
The Weymouth fisherman was on board The Purbeck Isle which sank on 17 May. His body was found at sea the following day.
Fellow crewmen Jack Craig, 21, and Robert Prowse, 20, are still missing.
'Tragic story'
David McFarlane, a father-of-three nicknamed Farley, was laid to rest at Weymouth's Holy Trinity Church on Wednesday.
Speaking before the funeral, his father Colin said: "One fisherman drove 11 hours from Scotland to leave his tribute - that was just so touching.
"I'm overwhelmed by his inner circle of friends and family and the wider public who have left a complete outpouring of messages of support - many who didn't even know him were touched by the tragic story."
The wreck of The Purbeck Isle was discovered by the survey ship Odyssey Explorer 10 miles south of Portland Bill at a depth of 50m.
Mr McFarlane said his son "knew the dangers" of the ocean but loved his job and on occasions the fisherman had spent between seven and fourteen days at sea.
He said: "David said he had seen everything except the final wave in the film The Perfect Storm - it was a favourite film of his as well.
"I think it's right to say that the Purbeck Isle was the first of his fleet - he certainly had big ideas and he was beginning to realise them and it's just so tragic - for all the crew - Jack and Robert too," Mr McFarlane said.
"Our hearts go out to the families of Jack and Robert because they have not yet been recovered - I just hope that they are found.
"We feel lucky that we've got David back but we're also doubly sad for the loss of the other families."
Mr McFarlane told how his son, who is survived by his parents Colin and Grace, his partner Victoria Huntley and three daughters Bethany, Caitlin and Hope, was a "true family man".
He said: "He was a happy, passionate boy and young man, he loved his family and he just loved life."
At the service, three tributes were read out while songs from the Beach Boys, The Kooks and Jack Johnson were also played.
Canon Richard Franklin, who took the service, said Weymouth had very strong links to the fishing community.
Local people and fishermen from across the country had "pulled together" to support the families of those lost on The Purbeck Isle.