'Mumbai attack' is worst-case scenario at Olympic sailing events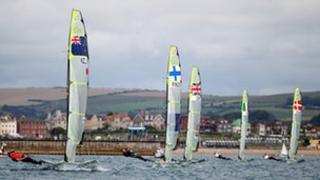 A "Mumbai-style" gun attack at the Olympic sailing events in Dorset would be the worst-case scenario, the force's Assistant Chief Constable has said.
Adrian Whiting believes London is a "more attractive" terrorist target but said he cannot afford to be complacent.
He said police would work closely with organisations such as the Security Service, to prevent a lone-wolf attack in Weymouth and Portland.
Armed police, the military and CCTV will also be used, Mr Whiting said.
Mr Whiting reassured residents and visitors that a safe and secure games will be delivered, both on land and at sea.
He said: "I am confident about the security arrangements we have in place, which have been thoroughly tried and tested and I am sure Weymouth and Portland will be a fantastic place to experience what will be the ultimate celebration of sport this summer.
"Most of the provision takes place before someone (a terrorist) gets to the location," Mr Whiting said.
Threat level 'substantial'
"We work closely with organisations like the Security Service (MI5) to identify people carrying out these attacks and intervene.
"Sometimes that information may not be available though, like with Anders Breivik in Norway."
Mr Whiting believes terrorists may target Olympic events outside London because of publicity regarding the security protection in the capital.
He said: "London may be a more attractive target but we might be the only area accessible to someone wanting to attack, so we can't be complacent."
The threat level of an attack is currently classed as "substantial", but police carried out security preparations for the Olympics on the basis they are "severe".
"The threat level to the UK has been severe in the past and it's conceivable that things could change, that is a sensible assumption," Mr Whiting said.
"A search regime will be in place for spectators watching the sailing events from the live site but we can't operate a search operation across the whole of Weymouth," Mr Whiting said.
"Members of the public may see personnel from the armed forces assisting with the security operation, as they would at Wimbledon, but those personnel will not be armed."
Up to 350 police officers will be on call during the Olympic sailing events in Dorset.
Police marine officers will patrol the water on vessels including jet skis, inflatable boats and smaller craft.
And more than a 1,000 military personnel will support Dorset Police's security operation, in the air and sea.
HMS Bulwark will be deployed 10 miles off Weymouth and Portland. The amphibious assault ship will be used as the police command base during Olympic and Paralympic sailing events.
Police and the military have been working together for 13 months to keep 50 square miles of sea safe.
The 65-day operation is the biggest ever undertaken by Dorset Police. As well as military support they are relying on 27 other police marine units for surveillance patrols and help responding to any threat.
Mr Whiting was unable to confirm how much the Olympic security operation in Dorset will cost, but the total cost for security at the 2012 Olympics has been put at nearly £475m.
He did confirm that police have not been approached by individuals or organisations, threatening to disrupt the Games in Dorset.
Mr Whiting added: "It's an immense privilege (to be heading the operation), it's both daunting and exciting."
Weymouth and Portland is the largest Olympic and Paralympic venue outside London and hosts the only other full-time Olympic village.