HM Prison The Verne chaplain appointed MBE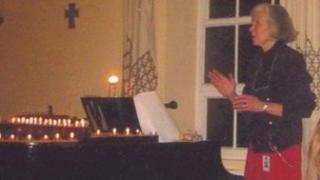 A Dorset prison chaplain has been appointed MBE in the Queen's Birthday Honours list.
Katrina Thompson, 71, was recognised for services to offenders at HM Prison The Verne on the Isle of Portland.
She said: "I was absolutely flabbergasted. I really didn't expect it but I'm obviously delighted."
Artist Keith Shackleton and Conservative councillor Ann Stribley also become MBEs.
Mrs Thompson added: "Maybe this will draw a little bit of attention to working with offenders.
"There are so many people who have got so much to offer but have just gone wrong and who need that support."
A spokesman from the prison said: "We are all delighted that such an esteemed member of staff, who is well respected by both prison staff and prisoners alike, is to be recognised for the excellent work that she does."
'Extremely grateful'
Mr Shackleton, 89, was recognised for his services to the conservation of wildlife.
He is a member of The Society of Wildlife Artists and his paintings focus on landscapes and animals .
Mr Shackleton, who was also a presenter on the BBC children's television programme Animal Magic, said he was "extremely grateful" for his MBE.
He added: "I'm enormously surprised as I think there are artists out there who I think are better. All I've done is indulge in my favourite hobby for a lifetime."
Ann Stribley, a councillor for Parkstone Ward in the Borough of Poole for 35 years, was appointed MBE for services to the community in Poole.
She said: "I think this recognition is for everyone who wishes to contribute to their community and make a difference.
"I'm very, very surprised, very pleased, and left with the feeling that there are people that deserve it more than the likes of me."
Also on the Honours list in Dorset is Adrian Whiting, Assistant Chief Constable of Dorset Police, who receives the Queen's Police Medal.