Accidents as new lights turned on at Canford Bottom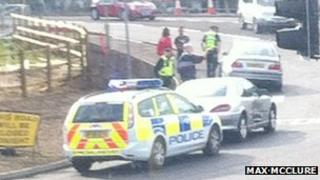 Two accidents occurred within minutes of a long-awaited new road junction opening in Dorset.
New traffic lights were switched on at the A31 Canford Bottom interchange earlier following months of road works.
Dorset Police confirmed two minor accidents were reported to them on Wednesday morning.
The new road layout, previously dubbed the "hamburger" junction, has around 70 traffic lights controlling traffic from four adjoining roads.
Nobody was seriously injured in either accident.
The £5.7m upgrade scheme to slice the roundabout between Wimborne and Ferndown in half, creating a new dual carriageway, began last October.
The work was due to finish in May ahead of the London 2012 Olympic sailing and windsurfing events in Weymouth.
Councillor Peter Finney, Dorset County Council's cabinet member for highways and transportation, welcomed the completion of its latest phase.
He said: "We're grateful that the project went ahead and has been finished on time.
"We hope that the works will provide a lasting benefit for years to come."
The Highways Agency hopes to complete the final stages of the junction upgrade with a series of overnight road closures until Monday.