Wimborne town crier Chris Brown reunited with stolen bell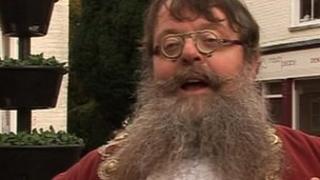 A Dorset town crier has been reunited with his handbell after it was stolen.
Chris Brown, Wimborne's town crier, said the bell was in a bag which was taken while he was DJing in a pub earlier this month.
The missing bag and bell, which has little financial value, were left anonymously, close to Mr Brown's car, on Sunday.
He said he was "very happy" after it appeared an amnesty had led to the culprit having a change of heart.
Scrap dealers alerted
Mr Brown said: "I really never thought it would appear again but some friends were calling and found the missing bag and bell by the rear of my car.
"I promised an amnesty which appears to have enabled the prankster to relieve their conscience and am a very happy town crier."
The 11ins (30cm) high military-issue handbell, which has an iron clapper, dates from World War I when it was used for gas attack warnings.
The bell is used to accompany Mr Brown's "cries" around the town and at national and international gatherings.
He had notified local scrap and antique dealers to keep an eye out following the theft.