London 2012: Prince Charles meets Team GB at sailing academy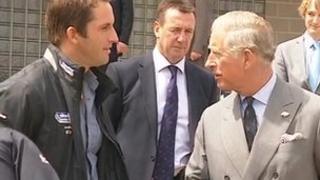 Prince Charles has met members of the Team GB Olympic and Paralympic Sailing squad at Weymouth and Portland National Sailing Academy (WPNSA).
The Prince of Wales was shown around by sailor Ben Ainslie, the winner of three Olympic gold medals.
He also met members of the Royal Yachting Association and the WPNSA.
Ainslie said: "It's great for everyone at Weymouth and Portland to have Prince Charles down here giving us that support so close to the Olympics."
Weymouth and Portland is hosting the sailing events at the London 2012 Olympics and Paralympics over the summer up until 6 September.
Lovely Rita
The prince was asked to christen a boat belonging to Olympic hopefuls Stevie Morrison and Ben Rhodes.
The pair - Britain's representatives in the 49er class - handed the prince a bottle of beer, which he poured over the white sailing boat, naming it Lovely Rita.
Rhodes, 31, said: "Lovely Rita is a Beatles song and we thought it was as British a name as it could be. Ben [Ainslie] names all his boats Rita so we thought we should get in on the action."
The prince later went to a new sports centre in Dorchester and also visited Poundbury, the urban extension to Dorchester he created in 1993.