Shaftesbury town centre public art design on display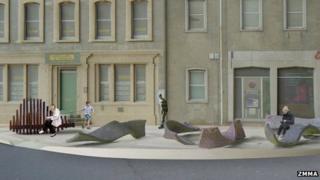 Designs for proposed new public art for a Dorset town centre have gone on show.
The planned sculptures, by architect Adam Zombory-Moldovan and furniture-maker Simon Thomas Pirie, would be sited at The Commons in Shaftesbury.
Called Common Places, it comprises of ribbons of cast greensand and sliced "pebbles" of wood from local estates.
Jan Scott of the town's civic society called it "a bold statement of pride and confidence in the future of Shaftesbury".
Initial funding of £5,000 for the project came from the Dorset Design and Heritage Forum and further fundraising would be needed to see the project through to construction.
The designers said the sculptures would "form surfaces to sit, stand, perform, eat, meet and work on" and would "create a useful and beautiful focal point for the town."
The work also features stone text panels set into the ground with stories about local people, places and historical events.
An architectural scale-model is on show by appointment at ZMMA architects' studio in Shaftesbury.