Jurassic Coast wind farm plans criticised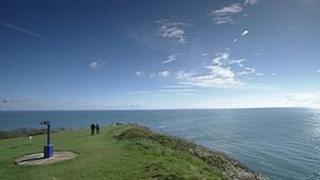 MPs have urged the government not to allow the Jurassic Coast World Heritage Site to be "blighted" by an offshore wind farm.
Energy company Eneco wants to build a 250-turbine wind farm in Poole Bay which would open in 2019.
Speaking in a special Commons debate, the Conservative MP for South Dorset Richard Drax said the turbines should be built elsewhere.
Mike Unsworth, director of the project, said the community would benefit.
He added: "We are working hard to demonstrate to groups and individuals what Navitus Bay will mean for the community, including the many benefits it will bring such as jobs, skills creation and local investment.
'Coastal crown'
"We have also engaged with independent experts to create accurate scale visualisations of the site, to ensure that we are able to communicate our current proposals clearly and transparently.
"We are also currently undertaking the Environmental Impact Assessment and the possible impact on landscape and seascape will be fully assessed."
Mr Drax said: "There are other sites further away and less visible.
"There are no other sites designated as World Heritage in this entire country.
"I would ask the government to think very carefully about what it is doing before we blight one of the jewels in our coastal crown."
The development would sit about 10 miles (16km) from Bournemouth and Poole, 8.2 miles (13.2km) off Swanage and 8.4 miles (13.5km) south-west of The Needles.
'Views are heard'
Conservative MP for Bournemouth West, Conor Burns, said: "My constituents will not forgive us if we do not highlight the potential impact this could have."
Navitus Bay is one of nine UK sites earmarked for large offshore wind farms.
The holders of all nine licences have signed exclusive agreements with the Crown Estate, which owns the UK seabed.
Energy minister Charles Hendry said the government would listen to local opposition.
"There's a significant opportunity to ensure those views are heard and I'm adamant that local engagement will be an integral part of that process," he said.
Final plans are due to be submitted to the government's Infrastructure Planning Commission at the end of 2013.