Studland Bay seahorse no-anchor zone lifted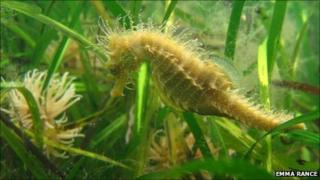 A no-anchor zone introduced to help protect seahorses off part of the Dorset coast has been lifted.
The Crown Estate and Natural England had asked boaters not to anchor in Studland Bay while the seahorses' seagrass meadows habitat was studied.
A report concluded there was "no consistent evidence of boat anchoring impacting the seagrass habitat".
The Dorset Wildlife Trust said there was still a "cause for concern" and called for further research.
The seagrass meadows in Studland Bay are home to protected spiny and short-snouted seahorses.
The study was carried out by The Crown Estate, Natural England, Royal Yachting Association and Studland Seagrass and Seahorse Study Group.
Julie Hatcher, Dorset Wildlife Trust's marine awareness officer, said: "Studland Bay is one of the most important marine wildlife sites in the country and any activities that may be having a detrimental impact must be investigated."