Mudslides on Lyme Regis cliffs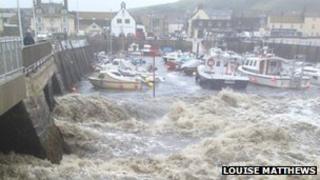 Several mudslides have occurred as heavy rain batters cliffs in Dorset.
Police said continuous intense rain had caused a number of landslips in the Lyme Regis area making cliff faces highly unstable.
In Lyme Regis itself, a deluge of water saw many residents barricading their homes with sandbags as water cascade through the town.
Fire crews said they had attended more than 60 "flooding or water related incidents".
They included water pouring into properties and vehicles stuck in flood water.
'Car waves'
A 26-ft yacht in Lyme Bay had to be towed to shore by the RNLI lifeboat after the crew was overcome by severe sea-sickness.
Dorset police issued a warning to motorists about the adverse conditions.
Ch Supt David Griffiths said: "Do not take risks driving through flood waters.
"This is not just important for motorist's own vehicles but also in view of other people's property as the spray caused by driving through deep water can lead to waves, flooding adjacent properties and vehicles."
A severe flood warning has been issued for the River Bride affecting the High Street, Mill Street, Manor Farm and The Rookery in Burton Bradstock.
Environment Agency river gauges have recorded record levels at the River Bride after parts of West Dorset received between 75mm and 120mm of rain in 24 hours - more than a month's worth of rain in a day.