Off-road mobility scooter unveiled at Arne Reserve in Wareham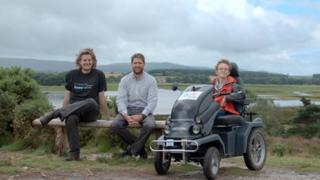 An off-road mobility scooter to help people who have difficulty walking enjoy the countryside has been unveiled in Dorset.
The Tramper scooter is now available at the RSPB's Arne Reserve near Wareham.
The scooter is provided by charity Living Options Devon and can be hired by those who join the Countryside Mobility South West scheme.
The scheme, funded by Natural England and the Big Lottery Fund, runs at more than 25 locations in the South West.
Charlie Williams, 14, from Wimborne, has cerebral palsy and cannot walk without using a frame or wheelchair.
'World of possibilities'
Charlie's mother Lynnet said: "He only has a manual wheelchair which is awkward to push, especially on rough and sloping ground.
"With the Tramper he can go wherever he wants and we don't have to push him. The ground at Arne is quite soft and sandy, so it's hard work pushing a chair - the Tramper is just the best ever thing for us.
"It's opened up a new world of possibilities, where we can go out as a family without struggling to push Charlie around."
The scooters can be hired by anyone over the age of 14 who has difficulty walking.