Olympic relay: Dorset cyclist Rod Drew covers flame route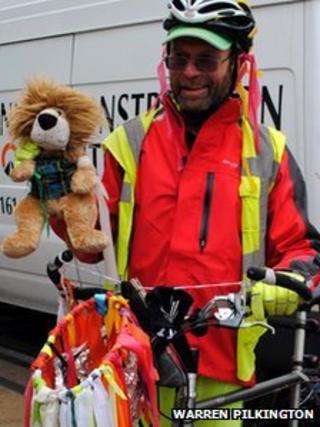 A Dorset cyclist is back in his home county as he attempts to ride the route of the Olympic torch relay.
Rod Drew, 67, has been following the torch on its journey around the UK since it arrived at Land's End on 19 May.
He has cycled up to 180 miles a day past some of the UK's most familiar landmarks and picturesque scenery.
He said: "It's been lovely seeing people joining together and doing something real for the Olympics."
Mr Drew, who gave up his car in 1993 for environmental reasons, is raising money for MacMillan Cancer Support in memory of a friend, Jim Packard.
He also had artificial hip joints fitted 10 years ago.
"It's remarkable how the human body is," he said. "Provided I get good sleep and do some gentle exercises, the body is remarkably fresh."
Eggs thrown
He has clocked up more than 3,500 miles following the approximate route of the torch.
Although he admits he struggles to "remember one day from the next", he said his highlights had been cycling Northern Ireland's coast, the Scottish Highlands and the Yorkshire Moors.
"I try to make sure I see the torch at least once every day and then I scamper off to keep up the miles," he said.
Accompanied by his lion mascot, Olly the Olympian, he has been calling at schools to give impromptu talks about his travels.
He has had to contend with having eggs thrown at him by a group of youths, some "near misses" from cars and high winds making cycling difficult.
Travelling solo, he has been organising his accommodation on the road and relying on "wonderful people" who have helped him en route.
Mr Drew recalled a couple in Northumberland who took him into their home for soup and to change his clothes during a particularly "horrendous" rainstorm.
"People have been so kind and interested in what I'm doing. There is tremendous excitement among the torchbearers and wherever people gather," he added.
When the torch relay passes through his home town of Dorchester on Thursday on its way to Weymouth, it will give him the chance to spend one night in his own bed before he follows the torch on the rest of its journey.
He plans to arrive at the Olympic Stadium in London ahead of the torch on 27 July, before he "slips off quietly" to Waterloo Station and the final leg of his journey home.