Pupils see Red Arrows memorial sculpture cut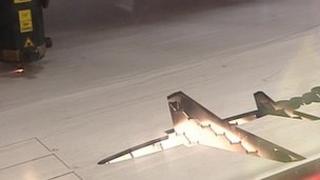 Children whose artwork inspired the design for a memorial to a Red Arrows pilot have watched their sculpture being cut from steel.
The memorial planned for Bournemouth's East Cliff has been designed by Kinson Primary School pupils Penny Vallier, 10, and George Cutler, nine.
Flt Lt Jon Egging died when his Red Arrow crashed following a display at the 2011 Bournemouth Air Festival.
The artwork will be installed in time for this year's event.
The children visited a laser-cutting factory in Wimborne with the pilot's widow, Dr Emma Egging, and the rest of their class to see the jets and their contrails being cut from the metal.
'Amazing'
The jet's tapering contrails will feature swirls and decorative red, white and blue glass circles.
Penny said: "I think it's... amazing."
"We've seen the machine cut it out and saw how the thing's going to be put together - there's going to be holes in different places and they're going to be filled in with special glass."
The pupils' design of three planes flying over mountains and a cottage was chosen by Dr Egging following a competition held last year.
Dr Egging said: "It's at that really exciting stage of translating something from a design into a cut piece.
"It's really beautiful and I think it's going to look fantastic when it's got the glass added, when it's up there with the blue skies behind it."
Flt Lt Egging, 33, of Rutland, was killed when his aircraft crashed into a field at the village of Throop, near Bournemouth Airport, on 20 August.