Dorset Hungarian Olympic torch relay protest averted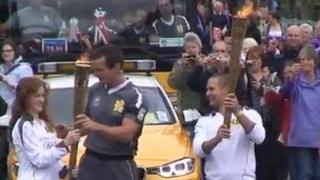 A possible protest during the Olympic Torch Relay in Dorset has been averted.
Friends of Michael Turner planned to turn their backs on Hungarian torchbearer Richard Veres as he ran through the village of Corfe Castle.
Mr Turner and former business partner Jason McGoldrick, from Plymouth in Devon, face charges of fraud in Hungary and have spent time in prison there.
Mr Veres's leg was switched by The London Organising Committee for the Olympic Games (LOCOG) to nearby Wool.
The 20-year-old Hungarian kickboxing champion had been due to carry the flame past Mr Turner's family home, The Castle Inn Pub, which villagers felt was "insensitive".
In 2009 Mr Turner, 30, and Mr McGoldrick, 39, who deny the fraud charges, were held in a Budapest prison for four months awaiting trial.
Mr Turner's family had nothing to do with the protest, and his father, Mark Turner, flew the Hungarian flag above his pub in the village as the torch passed by.
Speaking to BBC Radio Solent, he said he was glad it did not come to a protest.
He added: "This is a great day for Corfe, there's a real carnival spirit and it's fantastic to be celebrating rather than protesting."
Last month, legal proceedings in Budapest against Mr Turner and Mr McGoldrick were adjourned until November.
The pair are alleged to owe hundreds of creditors £18,000 after their time-share holiday company Dream Espana collapsed in 2005.