Weymouth flooded nature reserves to be open in time for the Olympics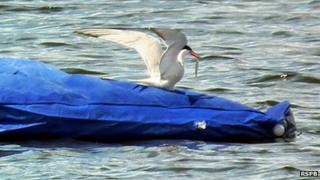 Nature reserves in Weymouth that were hit by the recent floods will be open in time for the Olympic Games taking place nearby, wildlife staff have said.
"Countless birds' nests were destroyed" after reserves swiftly came under a metre of water, said the Royal Society for the Protection of Birds (RSPB).
The RSPB said damage to its Discovery Centre would cost £100,000 to repair.
But a spokesman said the reserve would "be ready to welcome thousands of new visitors during the Olympics" in July.
Inflatable mattress rescue
The number of bird deaths are not known, but Rob Farrington from the RSPB in Dorset said "within a relatively short space of time we'd suffered significant losses".
However the common tern colony at Lodmoor could be saved using inflatable camping mattresses, which rescuers happened to have to hand.
"But there was nothing we could do for other wildlife out on the reserve," said Mr Farrington.
Cameras, displays and cafe equipment at the recently refurbished centre had been "damaged beyond repair".
But following a clean up the centre will re-open in time for the Olympics.
"We're hoping to put up temporary displays," said Mr Farrington, "including the story of the flood."
Weymouth and Portland will host sailing events at the 2012 Olympic and Paralympic Games.