Camp Bestival preparations at Dorset's Lulworth Castle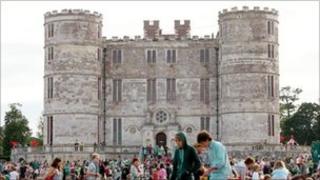 Recent flooding has already seen one South Coast music festival descend into a sea of mud and traffic chaos this summer, but the founder of Camp Bestival in Dorset has vowed his revellers will not suffer the same experience.
Up to 30,000 people are expected to attend the fifth Camp Bestival music and arts festival at Lulworth Castle in East Lulworth, which begins on Thursday.
Festival founder Rob Da Bank said he had only been "slightly concerned" about two small fields on the 220-acre (89 hectare) site at the height of the recent bad weather.
Heavy rain left the Isle of Wight Festival's main car park waterlogged in June and hundreds of cars were unable to enter the site, bringing the island to a standstill.
'Contingency plans'
Rob Da Bank said: "The most important thing is to ensure people can get on and off the Camp Bestival site.
"If there is heavy rain - and we've only ever been slightly concerned about two small fields recently - we will ensure we have all the correct contingency plans in place.
"We'll organise alternative routes in and out and we'll relocate car parks to more solid ground if needed."
Camp Bestival is the single biggest event held at Lulworth Castle, which is run as a tourist attraction.
Paul Pinnock, manager of the castle and park, said: "Luckily the site drains extremely well because it is on high ground which is made up of a lot of chalk - so rainwater filters through and away."
Mr Pinnock said a traffic management plan had already begun which this year included a new road on to the site.
"It's very substantial and can be extended if necessary," he said.
He said trackway was being laid to help cars and heavy production vehicles enter the festival ground more easily.
"The show will go on and it will be very accessible but we cannot predict the weather so people need to come prepared," he said.
The four-day event was granted a five-year license by Purbeck District Council in 2010.
Earth Wind and Fire, Kool and the Gang and Hot Chip will headline this year's festival.