Portland Olympic police cabins have no planning permission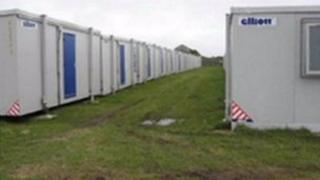 Cabins installed for police in Dorset ahead of the Olympics do not have planning permission, it has emerged.
Weymouth and Portland Borough Council is to decide on a retrospective planning application for the 140 cabins in Portland on Wednesday.
Natural England said the installation had caused "serious damage" to a site of nature conservation interest (SNCI).
Compass Point Estates, which is installing the temporary structures, did not realise it needed permission.
The cabins are being installed for use as accommodation by police officers working at the Olympic sailing events, which are taking place in Weymouth and Portland.
Work on the site, south east of Southwell Business Park, Sweet Hill Road, has stopped until the planning application has been decided. It has been recommended for approval.
'Needless damage'
In a written response to the planning application, John Stobart, Natural England's lead planning and conservation adviser, said: "The unauthorised installations of cabins on the SNCI at Southwell Business Park has resulted in serious damage to the site's species-rich limestone grassland."
Mr Stobart said the cabins had been set too low to the ground, killing off the turf, and the drainage methods used resulted in "needless further damage".
Mr Stobart said there would be no benefit in removing the majority of the cabins as the damage had already been done, but recommended that some that have not yet been plumbed in are moved to a different part of the site.
Simon Chambers of LPC, which is representing Compass Point Estates, said his client was unaware that planning permission was needed for the portable cabins, which are expected to be removed again in three weeks.
He said: "As soon as we were asked to make an application, we did so.
"We do not think they have caused damage. We have sought independent ecological advice which suggests that the grass will recover."