Weymouth Olympic sailing events under way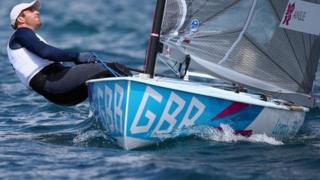 The first 2012 Olympic sailing events are under way in Weymouth and Portland.
Thousands of spectators descended on the south coast to see Ben Ainslie begin his quest for a fourth Olympic Gold medal.
The Lymington-based sailor came home in second place in both races in the Finn class.
Spectators also watched events on a big screen on the beach in the 15,000-capacity "live arena" but crowds seemed lower than expected.
Roger Harris, Olympic ambassador at the free Weymouth and Portland Live Site, said: "There's a good turnout... but we would always like to see more."
On Saturday, 2,012 people waded into the bay carrying flaming torches.
The spectacle was part of the "Battle for the Waters" production.
'Huge planning'
Traffic restrictions have been put in place ahead of the sailing and windsurfing events.
Assistant Chief Constable Adrian Whiting believes their handling of the recent Olympic Torch Relay demonstrated an ability to handle security at the largest Olympic venue outside London.
He said: "We're nervous to make sure that everyone's in a position to perform at the best of their ability and our logistics are spot on, but we're very, very excited at the opportunity."
A control room in Dorchester has been set up to monitor traffic in and around Weymouth.
Angus Campbell, of Dorset County Council, said: "We've put a huge amount of planning and effort into making this as easy flowing as it can be.
"Every scenario has been looked at - we just have to be able to deal with them as quick as we can."