Hotweeks holiday firm boss Frank Madden admits unfair trading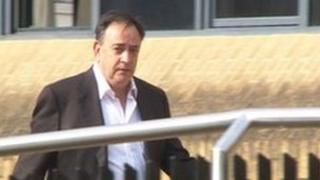 The owner of a Bournemouth-based holiday club scheme has pleaded guilty to eight counts of unfair trading.
Frank Madden, from Bournemouth, admitted at Southampton Crown Court earlier that he hid the details of contracts from customers until after they had signed up for holiday club membership at his company Hotweeks.
Madden, 55, also misled customers by falsely claiming his company had been approved by the Office of Fair Trading.
He will be sentenced on 24 August.
'Very complex'
Southampton Trading Standards began investigating Madden after being approached by victims of the scheme.
He had given a four-hour presentation to people in offices in Oxford Street, Southampton.
They were told if they paid a sum of up to £2,000, they would get discounts on accommodation, flights and cruises - accumulating points as they went along.
Some paid hundreds of pounds in cash as a deposit but they never received any discounts and did not see the full contract until after it had been signed.
Clive Robertson of Southampton Trading Standards said: "What they were told was contained in small print on the back of a very complex contract and at that point they then came to us."