Cars sought after Boscombe 'gang' shooting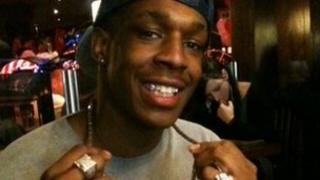 Officers investigating a suspected gang-related murder in Dorset are trying to trace two vehicles seen on the night of the incident.
Reece James Menzies, 21, from London, died at an address in Roumelia Lane in the Boscombe area of Bournemouth in the early hours of Wednesday.
He had been shot dead.
Dorset police are trying to trace a small silver or grey hatchback parked in Sea Road and a dark-coloured hatchback seen in Roumelia Lane.
Both vehicles were seen between 02:00 and 03:00 BST on Wednesday. The silver or grey car was spotted outside Whistons baby and toy shop.
Detectives are also appealing for any friends or acquaintances Mr Menzies, to contact police as soon as possible.
Det Ch Insp Pam Trevillion said: "We urge anyone who knew Reece in any way or visited the address where Reece was staying to come forward.
"We understand that it is worrying for people to take the step to speak to police, but I would like to take the opportunity to reassure members of the public that any information will be treated confidentially."
Dorset Police said the shooting was a part of a "premeditated and targeted" attack by several people.
A 22-year-old man who was arrested over the incident has been released on bail pending further inquiries.