Portland Young Offender Institute labelled complacent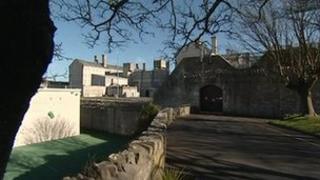 A young offenders' institution in Dorset has been criticised by inspectors for its "apparent complacency" over safety issues.
An HM Inspectorate of Prisons report of Portland showed there had been a rise in violence and "limited progress" in tackling self-harm.
However, the report said the institute was clean and largely drug-free.
Michael Spurr of the National Offender Management Service (NOMS) said the governor would act on recommendations.
The report stated: "Too little progress had been made against recommendations on suicide and self-harm prevention."
'Incidents of bullying'
Jordan Buckton, 20, was found hanged in his cell at the institution in February.
It added the quality of documents monitoring such cases was mixed and "safer cells were not conducive to good care".
"We were not assured that all incidents of bullying were identified or thoroughly investigated, but there was some evidence of action to challenge it," it said.
Nick Hardwick, chief inspector of prisons, said: "Although this is, overall, a mixed report, the provision of regime remains good and there is a meaningful focus on resettlement.
"The apparent complacency around ensuring safety, however, required attention."
Mr Spurr, who is the chief executive officer of NOMS, added: "Portland has only recently changed function and, as the chief inspector acknowledges, has responded positively, particularly in terms of activity provision and resettlement.
"The governor and his staff will use the recommendations in the report to further improve performance".
Training provision
Inspectors also found:
Good work in learning and skills, with low unemployment
Better access to drug support services, and progress in health care
Induction arrangements either "only adequate" or "weak"
The segregation unit little used but in need of improvements
Portland opened in 1848 and held convicted adults until 1921, when it was converted into a borstal.
Since April 2011, it has been a training prison for male adults (21 and over) and young adults (18-21).
The inspectors' report covers an unannounced visit to the institution in April.
Mr Hardwick said: "Developing services for its new adult population appears to be Portland's new challenge."