Poole Twin Sails Bridge legal action 'out of question'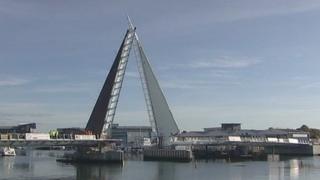 Legal action will not be taken "at this stage" against the builders of a Dorset lifting bridge.
Poole's Twin Sails Bridge opened in April at a cost of £37m but has been beset by closures and delays since.
Poole Borough Council has said legal action against contractor Hochtief (UK) Construction would be "totally inappropriate".
Road resurfacing and the softening of warning sirens are among the repairs to have taken place.
The council said Hochtief is "making good progress" and fully understands and accepts its responsibilities under the terms of its contract.
John Rice, engineering and maintenance manager at Poole Borough Council, said the control valves which raise and lower the bridge had been replaced and were now operating "smoothly and reliably".
"Work to soften safety sirens has also been completed while navigation signals for maritime traffic are being upgraded to increase their visibility to mariners.
"This progress has resulted in a significant reduction in the number of bridge lifts that are cancelled or delayed.
"In fact, less than 2% of scheduled lifts have been affected," he said.