Boscombe surf reef: Designer calls for modifications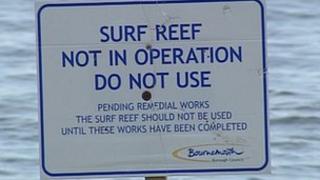 The man who helped instigate Dorset's controversial artificial surf reef has said he believes alterations should be considered.
David Weight, who has been credited with the initial concept for the Boscombe surf reef, told the BBC he wants to see it preserved and modified.
The reef was created to enhance waves for surfers but has been criticised for not working properly.
Critics say the £3.2m reef should be demolished.
The reef, made of 55 giant sand-filled bags 740ft (225m) out at sea, opened in November 2009 after lengthy delays and running over budget.
A specialist report by an academic at Plymouth University found it had not achieved all its objectives.
The reef has been out of action since March 2011 after being damaged by a boat propeller.
Sound base
Mr Weight, of Poole, said: "The problem lies with the reef's top layer, not the whole structure.
"The base is sound and secure and has already become a habitat for hundreds of fish and marine life.
"It may be possible to clear the damaged bags from its top layer and then look at replacing them with fewer, lighter ones.
"This is a system which has worked very well in Germany, recently."
Bournemouth Borough Council has recouped £196,000 in insurance claims relating to the damage and is awaiting the outcome of a second claim before considering its next option.
'Environmental benefit'
In May, a deadline imposed by the council for New Zealand-based builder ASR to carry out repairs passed without any action.
Service director of tourism Mark Smith said: "The council remains committed to Boscombe and further enhancing the contribution the reef has already made."
Labour councillor Ben Grower has long called for the reef to be dug up.
He said the recouped insurance money would make "very little difference" in relation to the overall cost.
"The council is going to be in a position where it will have to shell out more money to have the thing taken away," he added.
However Mr Weight believes demolition would be a waste of time and "remove any environmental benefit it has created".
"The problem is the council don't seem open-minded enough to other options.
"The reef still has the potential to provide a lot of value and it's time the public were invited to come forward with new ideas," he said.
ASR Limited was contacted for a response but are yet to reply.