London 2012: Officers reduced after low visitor numbers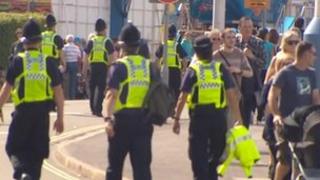 Police officers have been redirected from Olympic duties as they "weren't needed", Dorset Police has said.
The council and Olympic organisers had planned for 30,000 to 60,000 visitors a day to watch the sailing in Weymouth and Portland.
Even at the busiest time, on Sunday when Ben Ainslie won his gold medal, considerably fewer people turned out.
Outsourcing police support services to G4S had also proved to be a "strained" working relationship, the force said.
Festival closed
Dorset Police has 150 officers committed to the Olympic security operation, with a further 200 from other forces providing mutual aid.
There are also around 90 working on the water as part of the Police Marine Unit.
Assistant Chief Constable Adrian Whiting said: "We've been able to reduce the requirement on police.
"A number of officers have been returned to other duties or given other duties to do as they simply weren't needed.
"In many cases, officers are here as part of contingency - firstly to prevent bad things from happening and secondly to contain them if they do."
Between 28 July and 7 August, Dorset Police said there had been 27 arrests which were either for Olympic-related crimes or took place within the Olympic Weymouth and Portland area.
The low numbers of spectators during the Olympic sailing events saw parking charges in Weymouth cut to encourage visitors.
A 15,000-capacity "live arena" on the beach has struggled to draw in the crowds, with rarely more than 1,000 people at a time.
Retailers have also complained business is suffering from the resort being quieter than anticipated.
A two-week festival, which was due to run alongside the sailing events on the Esplanade, had to close on 3 August after lower than expected visitor numbers.