Weymouth Olympic legacy 'stifled' by broadband delays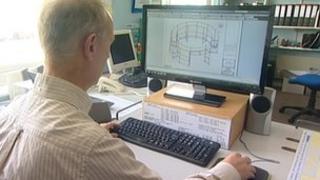 Weymouth could lose out on economic benefits of the Olympics because of a lack of high-speed broadband, the council and businesses have said.
BT had initially said Weymouth would have the same fast web connections as neighbouring Portland, but work is now due to start after the Games
Weymouth and Portland Borough's economic regeneration manager Ian Doyle called the delay "frustrating".
BT blamed restrictions on pre-Olympics construction work for the hold-up.
The telecoms company installed a super-fast fibre-optic broadband connection at the Portland National Sailing Academy, for use by the media, administrators and athletes during the Olympic sailing events.
Residents and politicians successfully lobbied to leave the fibre optic infrastructure in place after the Games.
'Bogs us down'
Almost 20,000 Weymouth homes and businesses had expected to benefit from a similar connection, but the work has not been carried out.
Nick Stantiford, whose aquarium firm relies on internet connectivity for large design emails and teleconferencing, said he has internet speeds of 3mbps, which regularly drop out altogether.
"We're involved in an international trade and it bogs us down," he said. "We are stifled by the lack of available technology.
"We really felt if there was a legacy from the Olympics, we'd at least be left with high speed broadband, but it seems we'll have to wait longer."
A BT spokesman blamed a ban on construction work in Weymouth in the run-up to the games for not completing the work and said high speed broadband would be installed some time in 2013.
"There has been an embargo on construction work of this type in the town until after the Olympics, but we expect to start work when the Games are over," he said.
"A considerable amount of work will be involved laying new fibre cabling and installing street cabinets."
Mr Doyle said: "To advance the knowledge economy and the way people do business now, it's important we have super-fast broadband.
"I'm sure BT will want to roll it out as it will be commercially successful and we'll help them and businesses to make it a success."