Dorset Police stands by Olympic sailing operation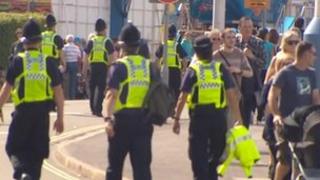 One of Dorset's top police officers has stood by his decision to commit 350 officers to Weymouth and Portland for the Olympic sailing events.
Some officers were redirected from Olympic duties as they were not needed.
But Assistant Chief Constable Adrian Whiting said the large police presence resulted in the crime rate being lower than in the same period last year.
"There was a risk of greater levels of criminality so we needed to be in a position to police," Mr Whiting said.
Dorset committed 150 officers to the security operation, with a further 200 from other forces providing mutual aid.
'Significant reduction'
Mr Whiting said: "There was a number of murders and deaths in Dorset just as the Games began so some officers were redeployed.
"But the additional police patrolling operation in Weymouth and Portland led to a significant reduction in crime."
Police confirmed there were 27 arrests, which were either for Olympic-related crimes or took place within the Olympic Weymouth and Portland area, between 28 July and 7 August.
Asked what had been the most challenging aspect, Mr Whiting said: "It was on the water, as no policing operation has done anything like this on this scale previously."
Mr Whiting said he was "cautiously pleased" with the operation so far, pointing out that it continued with the sailing events for the Paralympic Games, which run from 1 September to 6 September.
"The security threat level is the same as it was during the Olympics," he said.
Weymouth and Portland councillors from across the political divide had a universal view of the Olympic policing operation in Dorset.
Liberal Democrat Ray Banham, the council's deputy mayor, said: "It was chock-a-block for the Ben Ainslie weekend but the police and organisers coped well.
"There was hardly any unrest and what little there was was just silly little things."
Kevin Hodder, of the Conservatives, agreed the police had done an "extremely good job", as did Labour and Co-operative councillor Paul Kimber, who believed the policing was "excellent" and "as relaxed as it possibly could have been".