Poole Twin Sails Bridge overnight closure planned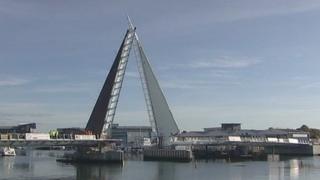 Poole's new Twin Sails bridge is to be closed overnight for work on the lifting system's power supply.
It is the latest is a series of closures and repairs on the £37m bridge since it opened in April.
A council spokesman said it was working with contractors to "resolve outstanding operational issues and further improve reliability".
The bridge is due to close at 23:00 BST and reopen before Wednesday's morning rush hour.
Raised position
The council said the work on the high voltage electricity supply was related to previous issues and did not represent a new problem with the bridge.
The opening of the Twin Sails Bridge was delayed when parts of the road surface broke away in April.
There have also been problems with navigation signals for maritime traffic are being upgraded to increase their visibility to mariners.
During the overnight work, the bridge will be left in the raised position to ensure no disruption to shipping.