Thomas Hardy enthusiasts converge on Dorchester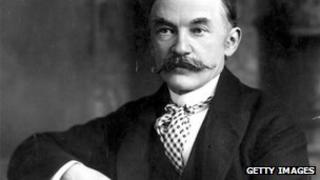 Literature enthusiasts have gathered in Dorset for the 20th conference run by the Thomas Hardy Society.
A programme of talks, seminars, walks and music events is being held to celebrate the poet and writer who lived near Dorchester for most of his life.
Thomas Hardy Society secretary Mike Nixon said the eight-day conference was "a balance of the academic and the local" and was important for boosting tourism.
Delegates are discussing aspects of Hardy's life and literature, from the wildlife in his books to his opinions on international politics.
Mr Nixon said television adaptations and film versions of Hardy classics were boosting interest in the writer and drawing more visitors to the area.
'Interesting opportunity'
Among the speakers has been Posy Simmonds whose graphic novel Tamara Drew has been turned into a film.
With delegates from a record 15 countries attending, organisers have highlighted Thomas Hardy's growth in popularity in countries where English is not the first language.
Russian PhD student Elena Elenev said it was a "tremendously interesting opportunity" to visit the place which was the inspiration for Hardy's fictional town of Casterbridge.
"For a small town with such a rich history, it is so well preserved. Everyone is so absolutely enthusiastic," she said.
Keith Wilson from Ottawa in Canada is a regular visitor to the biennial conference.
"Every conference leads to a developing understanding of Hardy and with so many post grad students now coming to the conference, it's vital for the future development of studies of Hardy.
"One of the nicest things is the mix of academics and lay-enthusiasts whose knowledge is just immense," he said.
Mr Nixon said it was important to attract local people to the conference events as, in the past, the town had an ambivalent relationship with the author who had a reputation for being remote.
"Dorchester always had a slightly odd relationship with Hardy, especially among the older families who knew him.
"But as Dorchester has expanded, many new people have come to the town because of a love of Hardy."
He said the "Hardy country" brand was boosting tourism in the same way Bath and West Yorkshire benefited from connections with Jane Austen and the Bronte sisters.